About myself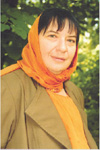 I've been working in the «burning enamel» technique since 1977. This technique is dominating in some works of art and it prevails the metal. In the others it appears as precious phonocryst.
I've been searching for many years trying to find out the proper materials, those ones that might make evident the originality of the ancient fine technique in modern monumental works.


I failed sometimes, but didn't give up because I thought of my works and I think now as searching. That's why their creating takes me more than a year.


I'm sure this technique has a great potential in creating of architectural interiors and exteriors.
I Thank God, that after graduating I had a chance to work seriously. I have a personal studio with a large experimental furnace, a galvanic baths and solitude.