Cradle and tradition

Ludmila Annenkova is an artist-monumetalist, working with «baking enamel» technique. In the modern artistic process her creative work is the peculiar way and search. The originality of this way is in the choice of such uncommon (but traditional on former times) technique. A creative search is directed at the tradition renovation. Enamel technique, which had been working as language of the arts and crafts, in other words as a small pattern technique, now modified and embodied in the scale of monumental and easel works.
Works of arts, which was created with enamel technique, well known from the Early Middle Ages. Such technique- laying of the glassy enamel paste on the metal and fixing it by burning - has several variations. These are sinuate enamels, plique-a-jour, transparent enamels and painted ones, which differ by the fabrication method. In the context of the Old Russian artistic culture plique-a-jour, adopted from the Byzantine arts, was of great importance. Byzantine plique-a-jour is among major achievements of the Middle Ages culture. This technique had been used not only in ornamental works, but also in the self-dependent figured compositions of religious subject with advanced iconography. Artistic style of the best Byzantine patterns always answered the common cultural situation of the period.
Revival and renovation of the stylistic and technological Features of ancient art and filling the old crafl with the new meaning, relevant for our contemporaries, are the main ideas of new tendency, which was included in the context of modern artistic situation.
Monumental compositions. New artistic style
Annenkova is famous as an author of monumental decorative compositions for interiors, different in the view of architectural spaces. Enamel panels «Mill», «Clocks», «Boat» were the first substantial works, connected with interior decorating. They were created for Chelyabinsk kindergarten in the 1984-85, soon after Stroganov college graduation. Then ensued the participation in the Ail-Union monumentalists' symposium, which have taken place in the Senezh Palace of Arts in 1987. There Annenkova developed the principles of the integrated interior decorating with the enamel compositions. The newness of suggested method was in application of enamel technique in monumental spatial compositions, in spite of this technique had the reputation of small fine forms technique. Moreover, Annenkova suggested to combine enamel with other technique and materials: specular surfaces, brickworks, sources of lamplight, etc. This project has won the 1st place and Ludmila Annenkova secured an order for decorating of the plant «Manometer» hall (1986-87). Enamel compositions, including drop ceiling with enamel lamps, were applied in that decoration.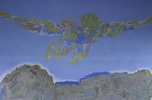 In the 1988 Annenkova took part in the work of 1st International enamel artists' symposium. There the new idea about application of the enamels to architectural spaces decoration was founded not only in aesthetics, but also in technology. Developed technologies were applied later in student club of Moscow Institute of Electronic Technology in Zelenograd (1986-95). The problem in combining of artistically comprehended spaces of different rooms (hall, vestibule, cafe), located on two floors, was solved there. Decorative dominating idea of this project is a motive of mirror «waves», destroying the blank brick wall.
Essence of new understanding of the enamel technique was conveyed in that decoration. Enamel insertions were placed at the border between wall and mirror reflections. Insertions flickers enable the difficult conversion of something material into phantom and ideal. Conflict between outwardly stable and permanent substance (basis of enamel is a copper frame) and elusive internal and therefore immaterial light of glassy surfaces is peculiar to enamel technique. In the Middle Ages period the conflict between spiritual and material underlied sacral art and vented formally in technologies, which combine solid and opaque materials with transparent and luminous ones (mosaics, stained-glass windows, enamels). The translation of formal and aesthetics fundamentals of ancient technique into a new art language and its application to a new architectural spatial and cultural environment is an undoubted creative achievement of Ludmila Annenkova.
Experiment in this field has been continued. The next stage was the decoration of the metro station «Otradnoe» in 1994. Two double-sided volumetric-spatial compositions, incarnated in the monumental enamel technique, answer the peculiarity of the station hall space. These are multi-figured compositions «1812 year», «Decembrists», «Workers of culture, science, art of 19 century» and «Decembrists wifes». Among interiors, decorated by Annenkova, the complex of internal rooms of Palace of Arts in Zelenograd (1996) was the last one. This complex includes foyer, theatre hall, and adjacent rooms. Interior decor incarnated in the different techniques: painting, mosaic panel and volumetric-spatial composition «Bluebird» with insertion of stained glass, ironworks and enamel panels.
Easel compositions

Easel compositions, representing all periods of style development, main cycles and series, are displayed on the numerous exhibitions. They illustrate another part of Ludmila Annenkova creative work.
One of the most interesting features of Annenkova artistic world is the keen perception of time cycling. Morning «knows» about evening, summer «knows» about winter, earth «knows» about the sky, sunny side of tree «knows» about the dark side. Everything is connected with everything, everything is doubly, plural and endlessly. Every creature in this world has its double, often - sequence of doubles, but it is always unique. In the creative work of artist such world view is demonstrated on the dif­ferent levels: from methods, on which form is based, to figurative system in whole. Such compositions as diptych, triptych, polyptych result from this world view. Tendency to composite works conveys in the fact, that self-dependent composition becomes paired with time and then becomes a part of cycle or series, which are developed till the selected theme is brought up to the end.
Enamel technology
In monumental and easel works Annenkova uses technology, which is based on plique-a-jour technique. Enamel slurries of local color (by two sorts: transparent and solid) are applied to copper basis and then burned.
Half-tint effect is attained by the method of optical color mixing, like in the pointillism technique or at the

expense of applying the transparent enamel layers to solid layers. Author takes into consideration and exploits the potentialities of enamel double luminescence, which includes «inner» luminescence, which is showed up, when cop­per plates is translucent through color layers and light is refracted in these layers; and «outer» luminescence, which is created by glassy surfaces gleams, changing their forms at the slightest move of spectator. These features (similar to mosaics and stained-glass windows) give the unlimited scope for inspired creative work.
Enamel layers could be repeatedly grown, when they are burned during the intermediate stages. Enamel compositions are exposed to 40 burnings in all. On that intermediate stages partition of copper wire is fused in and color palette becomes complicated. It allows author to modify the picture through the whole process, down to the last stage. In this regard enamel is similar to multi-layer tempera (icons, miniatures), where composition is created gradually.
Annenkova contributed new methods into such a difficult and developed technique. These methods entailed innovations in the system of expressive enamel means. Ludmila Annenkova combined plique-a-jour with its rare sort -- galvanic enamel. Electrotype method adds up to applying special mixture to copper basis. Then mixture «eats» into copper surface and galvanic partition, repeating contours of the preparatory draft, appears on the parts of copper basis. During the next stages enamel slurries are applied, then standard wire partitions and overlays of different configurations could be added. The application of new method complicated this already laborious technique, but resources of artistic means and potentialities of plastic expressiveness were expanded.